Black Friday Marketing Tips & Success Stories
Black Friday: Tips and Success Stories for Marketers
Don't you love it when your calendar hits the Holiday Season in November? Pumpkin spice latte, sweater weather, cardigans, and gloomy songs we hold on repeat… The last season of the fall hits differently. 
As November starts, we feel the winter season coming up everywhere we look. We see it on the coffee cups we order, we see it on our favorite brand's store, and we see it on the sparkly streets we walk through. 
We also associate discounts & sales with Holiday Season. Black Friday, Cyber Monday, Single's Day, and many brands are applying sales events for the whole month of November for us to participate in shopping madness. But, have you ever wondered why we have Black Friday in the first place? 
Why is it called Black Friday: The History of it
It wasn't about discounts when it began in the 1950s. The next Friday after Thanksgiving, Black Friday was accepted as the first day of the Christmas shopping season. The reason why the color "Black" comes before "Friday" is because people were so eager to complete their Christmas shopping that they started going to the malls before sunrise, and some kept shopping until sundown. Some also say that with so many people going out and having a shopping spree, the whole day went on with lots of traffic and bad incidents occurred that people started to have "negative" feelings about the day.
Not until the 1980s, the whole "Black Friday" wasn't even a nationwide event let alone worldwide. After stores made the biggest profit of the year, and Black Friday was the biggest shopping day in the United States, it slowly went overseas to conquer the world. For a few years, we also have been seeing "Cyber Monday", "Single's Day", and "Black November" events during November to boost sales more than ever. 
Holiday Season 2021 Recap
Criteo's 2021 Black Friday reports show us that Black Friday sales were actually down compared to other years yet Cyber Monday sales were peaking compared to pre-pandemic years. Data from Germany, France, and the United Kingdom also show the fact that online sales for Black Friday were down compared to 2020.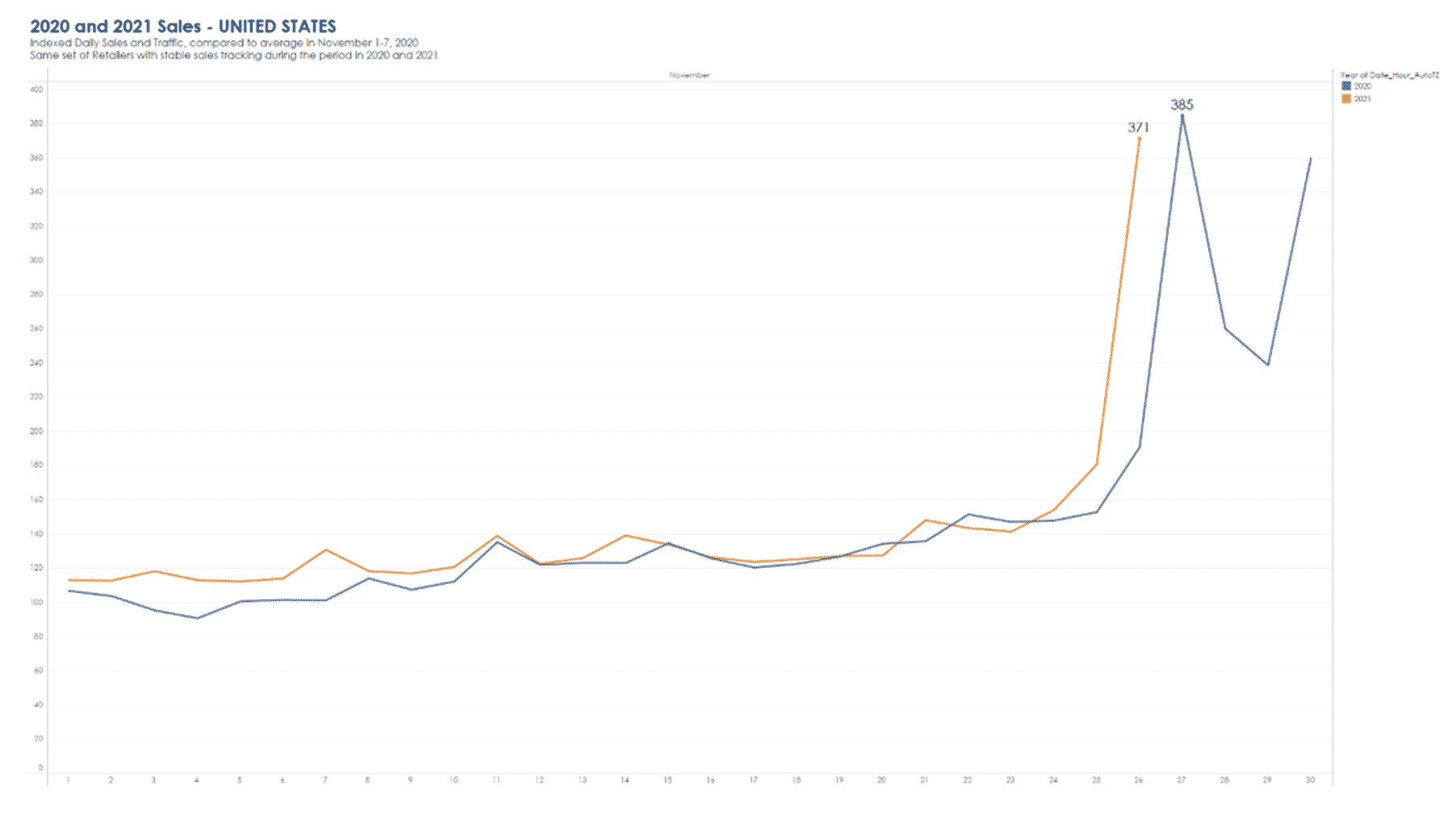 It is not a surprise to see a decrease in Black Friday sales in 2021 since the whole world was entering a new phase of the pandemic in November. While many are expecting to see a continuous decrease in Black Friday sales in 2022, many also expect a massive increase due to the pandemic being over officially.
Is it late for planning a Black Friday campaign?
While many brands have already started their whole month-long campaigns that will take place in November, some brands specialized their campaigns only on Black Friday.
But, is it late for planning a Black Friday campaign? Can it be successful? Shortly, the answer is no, and yes. An effective campaign does not need to be a long journey. Sometimes effectiveness comes from clear and plain campaigns. So, buckle up for our tips & success stories from brands that will help you get that profit this year.
Is Black Friday only for retail companies?
We know that it is frustrating to try and change strategies and tips you get from retail and e-commerce industries for your non-retail brand. Whether it is a service or a single product, you can come up with clever solutions for your brand this Black Friday.
Success Stories from Brands
We have interviewed our customers and asked them to tell us about what they have planned or what they have done last year during the Holiday Season.
Yolcu360 is a service that makes finding a rental car easier. With their smart software, users can see the best car rental prices that compare different local and global brands.  
With just basic push notifications, we have done last year's campaign smoothly. Plain and simple. For this year's campaign, we have come up with two different campaigns that focus on discounts on car rentals. Just like last year, we are planning to use push notifications to make our customers know about our discounted deals. It will take place between 25th November to 27th November. We don't want to tell you the exact discount rate, but you can be sure that it will be close to or more than %50.
Moov is a digital car rental application based in Istanbul. With Moov, customers can rent their choice of vehicle for hours or days. 
Last year during the Holiday Season, we did an amazing interactive campaign with mobile push and pop-ups. Our campaign story started with sending our customers a mobile push about our surprise discounts. 

After keeping them waiting, we started our campaign with discount rates changing in a few hours. As we were approaching to midnight, our discount rates kept getting bigger and bigger. 

We used pop-ups to keep our customers in the app, and offered them our discounts. Our open-app rates and sessions increased after this campaign. In the end, our open app rates were increased by %136.
Marketing Strategies and Tips for Black Friday
This year, we have gathered helpful tips for marketers who are planning to run a Black Friday campaign and seeking to get some help along the way.
1. No matter what you do, make your audience know about it via Social Media.
Social Media is an inevitable tool that we have to use in every step that we take. Connecting your stores to your Facebook, Instagram, and YouTube is a great way to start your integration with Social Media before Black Friday. Redirect your customers to your sales channels with Social Media to make sure you capture every customer on the way. This will help you increase your revenue, and also will gain you new followers that can engage with your brand. 
And most importantly, publish your Black Friday campaigns on Social Media to let them know you have something planned. Increase your posts on Social Media during Black Friday to make sure you can reach most of your potential customers.
2. Make sure your apps and website are up and running for the campaign.
It's never a good thing when you take complaints during a campaign from your customers. To make sure their experience is smooth, optimize your website and apps beforehand. Clear bugs, run tests and optimize the user experience before Black Friday for your customers.
You need your website and applications to be scalable and ready for high-traffic peaks. Do your website optimizations and application updates accordingly. Website and application crashes will only hurt your sales and your relationship with your customers.
#Tip: Personalize landing pages for your customers during Black Friday.
Deliver personalized landing pages according to your customer's needs and wants during your Black Friday campaign. If you have a wide range of products, this trick will work best for you. Show your customers what they're interested in on the front page with web personalization. 
Netmera's web personalization tool needs no code to function and delivers the easiest way to personalized website experience for your customers.
3. Use email marketing to reach out to your customers.
Gather a list of your potential customers. Choose your target audience and create a mail listing to use before Black Friday. Call it the "Black Friday email list" if you want to! Add your previous customers who signed up for your newsletters. 
#Tip: Personalize your emails to increase revenue. 
You can start with their names at the beginning of your email. And for a further potential increase in your sales, you can generate personalized "You may like it" sections in your mail for your customers.
With or without personalized content, make sure you deliver the basic information about your upcoming campaign to your customers. Tell them to save the day for your campaign, and give hints about your Black Friday events beforehand. If you are a retail brand, call them to action by inviting them to add their favorite items to shopping baskets or wishlists. 
Or, if you plan on giving out coupons for your Black Friday campaign, call them to action by making sure they are one of the first visitors for your campaign due to coupons being limited. 
4. Don't forget your important longtime customers.
Give your old and valued customers an extra push that will make them feel important and valued. This can be personalized coupons or discounts, or a free shipment if you planning to increase your online sales. 
5. Deliver your campaign with the context of urgency.
We all know how strong the words "limited", "today only", and "now" are when it comes to planning a sale. Call your customers to action with these phrases in order to increase your sales. 
#Tip: Email, SMS, web and mobile push, web pop-ups, and in-app messages can be used to deliver your discounts and coupons to your customers.
You can surprise your customers with hour-only sales or deliver your stock data running low if you can. This feeling of urgency will help you get the sales you want from your Black Friday campaign. 
6. Reach out to your customers after Black Friday.
Reaching out to your customers after your Black Friday campaign is over can help you to win longtime customers. You can send emails asking for feedback from customers that have purchased and got delivered something during the campaign after the event is over. How was the experience for them? What can be improved? 
#Tip: End your mail after the purchase with a channel that your customers can reach out to.
Add a mailing address or a phone number for your customers to reach out to when they need it. Listen to their questions after the purchase and solve any problems that can occur.
7. Add a chatbot to your website.
Whether your clothing brand's customers are asking which size they should get, or whether they want to know about return policies or something else they are needing of assistance with, it is always clever to have a chatbot on your website.
This will help your customers, reduce their time to find the right products they are looking for, and hopefully increase your overall sales.
8. Don't forget to add minimum spend rewards.
Minimum spend rewards could push your customers to reach out to the decided spend limit while they are shopping on your website. You can simply add free shipping over whatever limit you choose, whether it is $50 or $100.
9. Make guides on Social Media
If you have a wide range of products for your customers to choose from, you can create guides on Instagram and other Social Media platforms. 
Some ideas that you can choose from are: "Black Friday Best Deals Guide", "Gift Guides According to Zodiacs With Black Friday Deals", "Cyber Monday Star Deals" 
While looking at your guides on Social Media, customers can have a direct link to your products knowing which products have the biggest sales discount, and the best part of that customers love guides when a brand has a wide range of products. 
10. Use pop-ups for abandoned cart rates
The most upsetting thing to see in online sales is abandoned carts, right? This means that a customer added an item or items to their shopping basket,  thought of buying it for a while and suddenly they have second thoughts. 
There can be different reasons for it: price, not being sure of the item or the service, and simply it can be their minds that stop them from buying. For this, you can come up with pop-ups to save the day. Originally, it is helpful to ask the customer what went wrong with surveys and pop-ups after they abandoned their cart. During Black Friday, you can change your pop-ups to limited extra discounts on the basket with coupons or codes for your customers to make them return to their cart and finish their shopping.
#Tip: Offer limited coupons or codes to the customers that abandoned their carts without completing the shopping.
An extra code for a limited discount, free shipment coupon, or anything that will help you to complete that checkout can be helpful for you. Keep in mind that sometimes your customers need a little push.