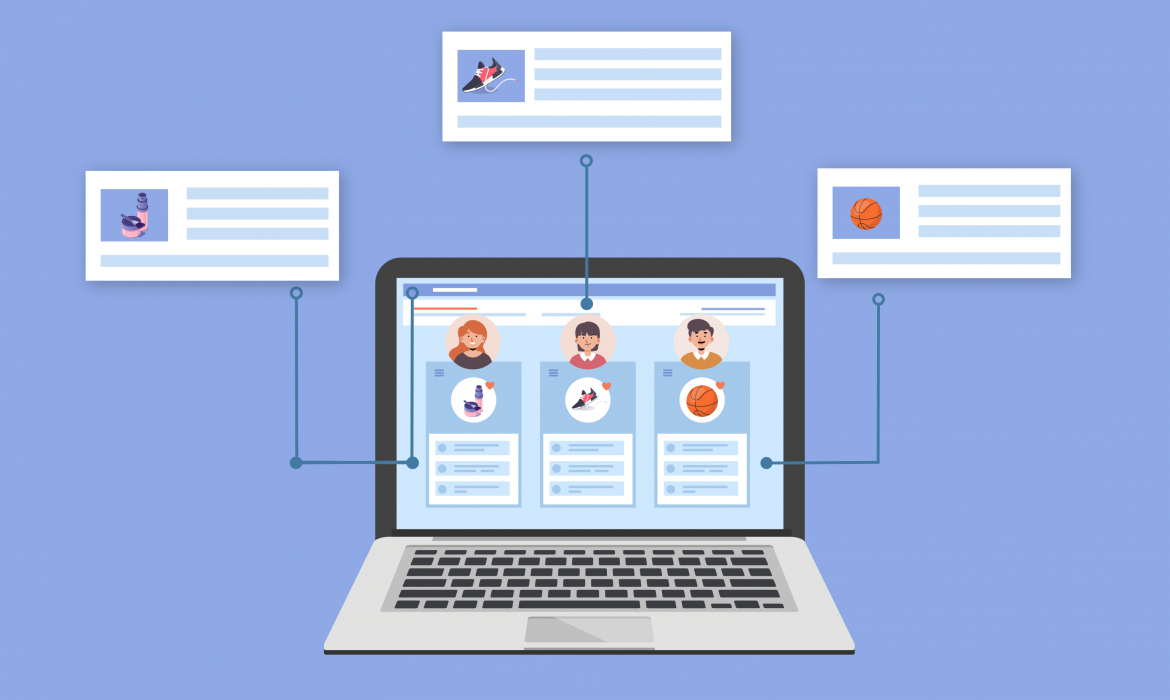 Website Personalization For Ecommerce
Personalization in ecommerce is the process of delivering personal experiences on ecommerce sites by dynamically displaying content, product recommendations and specific offers based on previous actions, browsing behavior, purchase history, demographics and other personal data.
Personalization is becoming increasingly important to sellers who not only want to engage shoppers, but also want to increase repeat purchases, sales and conversions. It comes in many different forms, from personalized product recommendations on a retailer's homepage or product detail page, to cart abandonment marketing emails, opt-in quizzes that provide consumers with a personalized product gallery, and many others.
Benefits of Personalization in Ecommerce
Before the explosion of digital commerce, customers simply walked into stores and found a friendly clerk helping them find what they wanted. However, this kind of personal customer attention is extremely rare in the digital world.Today, many retailers, brands, and B2B companies talk a lot about the need to customize the customer experience.
Marketers see an average 20% increase in sales when using personalized experiences.

80% of shoppers are more likely to buy from a company that offers personalized experiences.
It makes the consumer feel special.
According to research, 44% of consumers say they will likely become repeat buyers after a personalized shopping experience with a particular company.
Statistics show that 77% of consumers choose, recommend, or buy more from a brand that offers a personalized service or experience.
Here are some of the benefits you can see when you apply personalization in e-commerce:
Quick Conversion: 86% of consumers say personalization plays an important role in their purchasing decision.
Increases Loyalty: 56% of users who shop online are more likely to return to e-commerce sites that offer personalized recommendations and offers.
Increases Sales: 40% of consumers shop more on e-commerce sites that personalize the shopping experience.
Personalization Strategies In Ecommerce
The heart of personalization is to reach the goal, to touch the person. These goals should be customer oriented. It's not just about delivering what your business wants, it's also about allowing each visitor to consume their experience the way they prefer and helping them achieve their goals at every stage of their journey.
Think of a business you interacted with online, your favorite store, your bank, and remember the various goals you want to achieve there. Every visitor interacts with businesses in a wide variety of ways, and truly strong personalization looks at who you are, beyond what you're currently trying to achieve.
It is very important to collect the information of users who visit your site, subscribe to your email newsletters, shop from your site and contact your customer support department, and collect them in a database.
In email subscription or account creation, users will only fill in the necessary information (name, surname, e-mail, etc.). However, your customer support units can get more detailed information about them during the interviews.
When you start collecting user information, you have a chance to reach their demographic information and interests. By analyzing this data, you can make special studies for your users. You can also read our article below to learn how you can get this data without scaring your users.
Keep track of your previous purchases
You should also keep track of which products the users who have shopped from you before are interested in. This way, you can send them cross-sell emails about these products. Or you can make suggestions for products in other categories that may be related to the products they purchased.
Their previous purchases will show you which product categories they are most interested in. Collecting and analyzing this data will help you make personal recommendations to them, both on-site and in email work.
Take advantage of retargeting
You can show personalized ads to people who have not yet made a purchase from your site but have visited your site. Users may leave the site for any reason without completing the payment process. By making use of Retargeting ads, you can show these people ads about the products they are interested in on different platforms.
Retargeting ads are automatically created according to the products that visitors are interested in and visit on the site. In this case, if you make the necessary adjustments on your site, you have the chance to attract visitors who leave your site to the site by showing ads on different platforms.