How Sarmady Increased Engagement by 5X With Personalized Push Notifications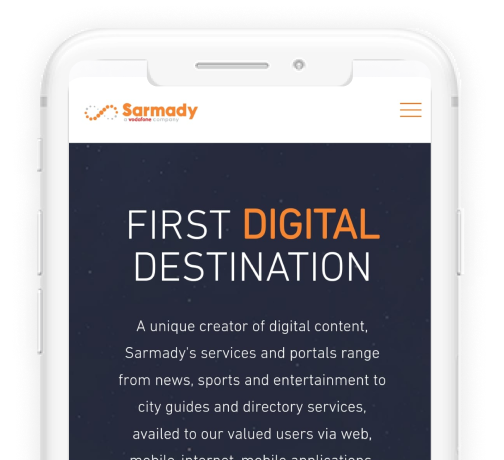 Established in 2001, Sarmady works as a full-fledged Digital Media House with the mission of making infinite digital innovations. They are on their way to becoming the number one digital solution provider in the MENA region. 
Sarmady creates unique content in news, entertainment, sports, automotive, city guide, and directory which they reach out to users via web, mobile-internet, mobile apps, social media, SMS, and voice.
Their brands include FilGoal in Sports, DarAlAkhbar.com in News, Akhbarak.net and more. Sarmady was fully acquired by Vodafone Egypt in 2011 and continues to create unique content for their users.
Sarmady was in need of an Omnichannel Customer Engagement platform for their brands. It was challenging for them to personalize user experience across channels including web and mobile. Sending non personalized messages could even cause opt-outs. It was important to send messages according to topics users are interested in. To send relevant and engaging content to their users, they wanted to micro-segment and target users based on events in real-time.
Moreover, FilGoal, one of Sarmady's popular brands, was in need of sending millions of push notifications in less than a minute to their users. It was critical to send messages immediately during the sports games at instances such as when a goal is scored or a player is injured.
Likewise, Akhbarak, another popular brand of Sarmady, curates stories from different fields such as Technology, Politics, Sports, Health, Women and Lifestyle. It also needed to be fast in their notifications to send the latest news to their users.
Overall, Sarmady was looking for a reliable platform that has incredible scalability and performance to be able to send out personalized fast push notifications to their customers.
Sarmady partnered with Netmera because Netmera provided an easy-to-use, self-serve Omnichannel Customer Engagement platform which allowed them to segment their users and create personalized campaigns on their own. They had the agility and flexibility to orchestrate their marketing campaigns quickly. Netmera's powerful segmentation allowed them to target their users according to customer behaviors and interests.
It also enabled them to scale up without having any performance issues while sending millions of push notifications to their users. Choosing Netmera also meant reliability and that 100% of their messages were delivered without any glitch. In addition, Sarmady was also able to analyze the in-depth campaign performance easily. Last, Netmera's constant customer support helped Sarmady to build their brands differently than their competitors.


Netmera's ability to micro-segment and target based on events in real-time, over web and mobile, enables us to interact with our users most effectively. This is critical for our media assets where the value of content is so time-critical. We see Netmera's omnichannel approach and consistent customer support in building our brands as a true differentiator
Samia Gamal
Managing Director of Sarmady