Funnel analysis begins with the analysis of a series of events leading to a defined, specific goal. Funnel analysis starts with user engagement in the mobile app.
Funnel analysis is a powerful tool for brands that can be used to understand where you lose your users, and how.
It helps brands to visualize the entire process and to identify why users drop off before the conversion. By analyzing steps individually, and understanding how users go through one step to another,  brands can set up the right strategies to grow their business and fix their problems. 
With funnels, you can find answers to several questions for your brand including: 
Where are we losing most of our customers?

How do our users feel about our new update?

Where should we allocate most of our marketing budget?
Benefits of Funnel Analysis
Clear Understanding of Customer Journey

Identify Bottlenecks and Optimization Opportunities

Data-Driven Decision Making

Improved Conversion Rates 

Enhanced User Experience

Resource Allocation and Budget Optimization 

Continuous Improvement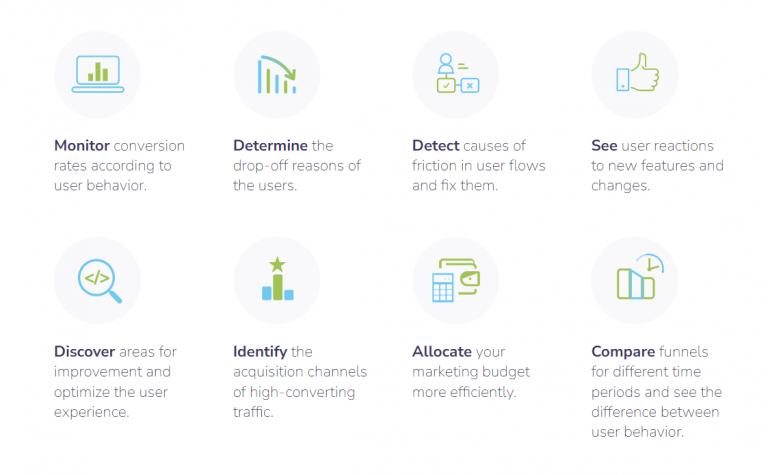 How to Use Funnel Analysis?
Define your funnel stages: Determine the stages of your conversion process. This could include interest, consideration, purchase, and retention. Clearly define the actions.
Set up tracking and analytics: Implement tracking mechanisms, such as web analytics tools or CRM systems, to capture data at each stage of the funnel. 
Visualize the funnel: Create a visual representation of your funnel. This visual depiction helps you understand the flow of users through each stage and identify potential drop-off points.
Analyze the data: Collect and analyze data for each stage of the funnel. Identify key metrics, conversion rates, and user behavior patterns. Look for areas of improvement, such as high drop-off rates or low conversion rates, and determine the factors.
Identify optimization opportunities: Based on your analysis, pinpoint specific areas in the funnel that need optimization. 
Implement changes and measure results: Implement the necessary changes or optimizations in your funnel and closely monitor the impact. Track how the changes influence user behavior, conversion rates, and other relevant metrics. 
Iterate and refine: Regularly review and refine your funnel based on ongoing data analysis. Monitor performance, identify new opportunities, and make further adjustments to continually improve conversion rates and the overall customer journey.